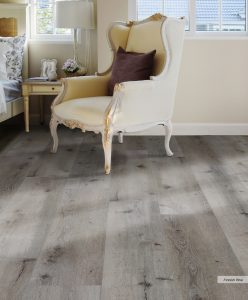 AUTHENTIC PLANK is the ultimate waterproof flooring. A high density core, commercial grade wear layer and sound deadening attached pad are combined to offer the toughest and quietest product in the market. The 9" x 60" wide plank features an enhanced V groove bevel to complement the EIR – Embossed In Register technique that details every grain, knot and natural feature of the wood pattern. Offered in 6 traditional wood décors and 6 varied shade designer colors, all with a Lifetime Residential Warranty.
If you want a durable, waterproof product that exactly replicates
the look of hardwood flooring, you deserve AUTHENTIC Plank.
For stock and availability
call: 703-530-1011
SPECIFICATIONS
- 8mm thick x 9" wide x 60" long
- 20 mil Urethane wear layer
with double UV coating
- 2mm vinyl top layer
- 4.5mm Composite Core
- 1.5 IXPE Underlayment attached
- Detailed texture and grain.
- V Groove Painted bevel
- Sq Ft per carton: 29.92
- Sq Ft per pallet: 897.6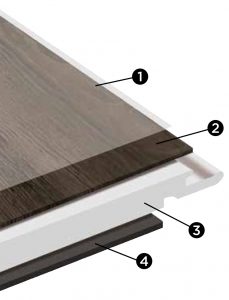 1) WEAR LAYER
20 mil Urethane with double UV
coating for Fade, Stain and Scratch
resistance. Easy to Clean.
2) VINYL TOP LAYER
100% Virgin material offers
superior stability.
Realistic wood décor.
Dent resistant.
3) COMPOSITE CORE
100% Waterproof.
Uniclic Locking System.
4) UNDERLAYMENT
IXPE Closed Cell cushion for
advanced Sound Absorption.
Impervious to water.
Hides subfloor imperfections.